Bitdefender Total Security 3-PC, 1-Year PLUS Ability Office Professional
Price: £69.95
Ex Tax: £58.29
Bitdefender Total Security
3pc, 1 year
Electronic Software Delivery (ESD): Software download + license key
Bitdefender Total Security is the unrivalled anti-malware suite with minimal impact on PC performance. With a non-intrusive and extremely fast scanning technology, it offers the ultimate silent security against e-threats.
Watch the Bitdefender video presentation:
Ultimate anti-malware defense for your data
Extremely fast. Non-intrusive. With Bitdefender Photon™
Guards your online transactions. Protects your digital identity.
Reveals your kids' online activities. Restricts them when necessary.
Safely stores your information online and syncs it between devices
Safeguards laptops and netbooks in case of loss or theft
Technology trusted by 400+ million PC users worldwide
FREE 24/7 technical support
30 day money-back guarantee
Awarded "Best Antivirus 2014"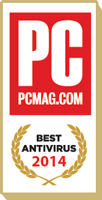 Bitdefender is this year's winner
Ability Office Professional
Electronic Software Delivery (ESD): Software download + license key
Ability Office Professional offers 5 fully featured applications in one affordable, powerful and above all compatible office suite, specifically designed for the needs of businesses everywhere.
Get straight to work with a completely familiar user interface that requires absolutely no retraining. Create, load from, edit and save to Microsoft® Office *.doc and *.docx, *.xls and *.xlsx, *.ppt and *.pptx, plus *.mdb files, Adobe® PhotoShop *.psd files, together with all other mainstream graphical formats.
Windows 8 and Microsoft® Office 2013 compatible.
Word Processing
Spreadsheet
Presentation
Database
Photo Editor
Ability Office includes 2 licences for your personal commercial use. Multi user licences are also available for larger organisations, such as businesses or educational establishments.
Includes FREE email and web support
Write a review
Note: HTML is not translated!
Bad
Good